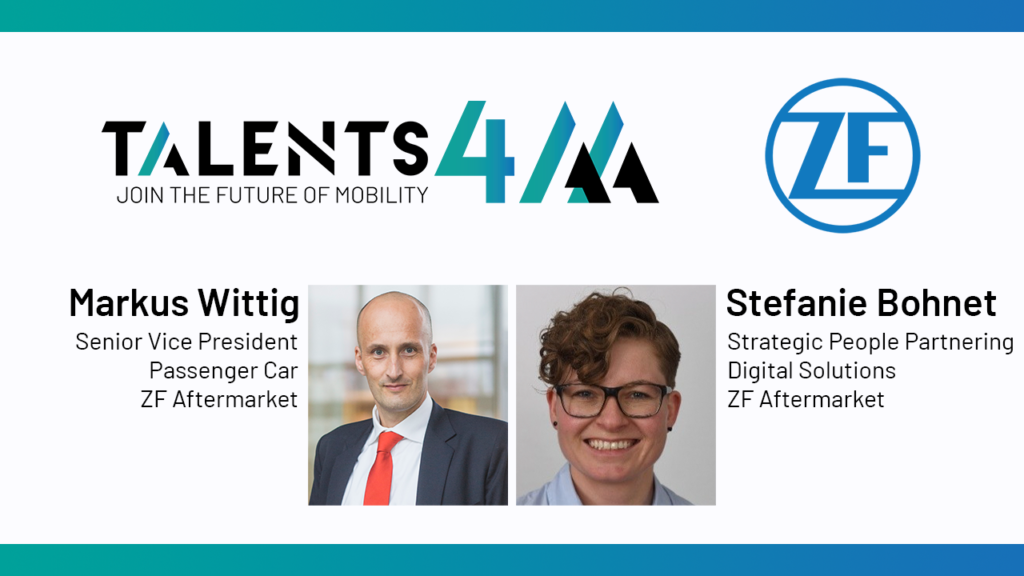 This week's short article is coming from our Ambassadors representing ZF Aftermarket: Markus Wittig, Senior VP for the Passenger Car business line, and Stefanie Bohnet, responsible for Strategic People Partnering in the Digital Solutions business line.
Read about their thoughts and comments on the evolution of the Aftermarket and the inevitable need to embrace the change, or risk being left behind!

Markus, why did ZF decide to become a founding member of Talents4AA?
ZF Aftermarket is a leading player in the global aftermarket, and we pride ourselves in being both an architect and pacesetter for the Next Generation Aftermarket. Our industry is changing at a tremendous speed. That means, more than ever, we need to attract and retain talent with skills that the industry has not seen before. The objective of Talents4AA is to make the sector widely recognized, elevating it to be an attractive place for all ages, origins, gender, and skills; able to dive into a multifaceted and fascinating sector offering tremendous choice and range in career opportunities on all levels – young graduates, as well as people with experience, factory workers and administrative staff as well as mechanics. Being one of the founders of this collaborative industry initiative allows us to actively steer and be part of creating this exciting journey towards a more connected and attractive industry. We are looking forward to the future and seeing the fruits of our combined efforts over the years to come.
You mentioned the changes in the market, what are the biggest impacts on the aftermarket business today and in the years to come?
There are so many. The evolution of the market is tremendous. To name a few: the acceleration of electrification, digitalization, and connectivity, as well as the need to act and lead more sustainably… the list goes on. ZF Aftermarket is prepared for these changes and includes them as integral parts and drivers in our Next Generation Aftermarket strategy. That also means re-thinking and evolving our business – continuously, on the pulse of the market. Many of these changes will demand a new approach on how we conduct business and use the evolved industry skills to drive these changes, taking advantage of the opportunities that lie within.
What does the Next Generation Aftermarket mean for the workshops and technicians out there?
The technological content within the vehicles is growing fast, not just in terms of complexity but also in terms of data access. Technicians need to be able to procure new types of parts with the same speed and confidence than they experience with more traditional components. Workshop employees need to be trained on the new technologies and tools with some new technologies even requiring workshops to hire additional staff with appropriate skill sets.
With this fast evolution of technology, we anticipate a shift in demand towards workshops. We will see volume erosion for some traditional products or services while also being prepared for new technologies. For instance, fully electric vehicles do not require the same filter change routines while hybrid electric vehicles carry the products required in a double drive system, utilizing both conventional and electric driveline components. Already today we offer support for the workshops to prepare for the future and are a strong, reliable partner around new technologies providing access to quality training, enabling skill expansion and exchange, raising awareness of the technology shift, and supporting the growth of knowledge throughout the industry.
Stefanie, you are responsible for HR for Digital Solutions at ZF Aftermarket – what do all these changes mean for the skills you are trying to get into the Aftermarket at ZF?
As Markus mentioned, topics like digital solutions, connectivity, data, artificial intelligence, software are core products to maintain in a vehicle life cycle. These impact and heavily disrupt the way and complexity we collaborate as teams. And of course, on the skills and competencies we need in the Aftermarket in general and at ZF. Unlike traditional aftermarket business and its often linear processes, we will need to focus on bringing in talent that is more like digital natives, accustomed to a high level of complexity, ambiguity and are used to agile and empowered working models. To attract and hire such talents is key to help us drive the internal transformation, upskill and train our existing teams and to position the Aftermarket as an exciting and thriving industry for talents within which to work.
We will have to prepare ourselves to compete with the big tech players meaning not only rethinking how we attract and hire, but more importantly, the way we are retaining and developing those talents to keep them for the long term.
At ZF Aftermarket are very committed to invest in our existing teams via various learning programs & platforms as well as pioneer programs to create a culture of belonging. Of course, that is a journey, and we are right at the beginning.
How does ZF attract new talents into the business and the industry overall?
We need to radically rethink the way we attract and hire digital talents. Employer branding is a very important tool to generate interest, but equally, if not more important, to make our employees our biggest ambassadors – because they are the real multipliers. To dip into the ambassador-power, it is very important to create the right culture that makes people feel a sense of belonging and purpose making them proud of the work they do. Two key elements for us in our recruitment process for talent is therefore to a.) focus to hire in line with our values and principles (>>) and b.) to show the purpose and vision of where the Aftermarket is heading and the endless opportunities it offers.
This will help generate a pull towards the Aftermarket and simultaneously hiring such new (digital) competencies and talents that help us provide opportunities to further train the workshops and share knowledge.
What needs to happen to make new talent aware of the opportunities in the aftermarket?
It is essential that we make the platform and initiative of Talents4AA widely known via a joint employer branding & marketing campaign to really bring this great initiative into the spotlight and ensure visibility is sustainable and consistent. A collaborative approach between key players in the industry as joint forces will bring power to this topic. And we at ZF Aftermarket look forward to actively driving this from our end. The aim is to further communicate and engage not only within the aftermarket sector but of course beyond.
One sizable next milestone is the Talents4AA digital hub that is in planning. It will allow talent and industry to exchange, build a strong, global connected community. Most certainly this will be a game changer and ZF is invested in contributing to make that platform a success.
Follow ZF Aftermarket on: